The NHLP 2D multi-element airfoil has been investigated as a challenging, high lift configuration for testing flow solvers and turbulence models. The configuration presented herein is the takeoff configuration (M=0.2, Re=3.52x106,) in which the slat deviation angle is 25 degrees and the flap deviation angle is 20 degrees. In such conditions, the flow about the airfoil exhibits a wide variety of phenomena. The confluent and merging boundary layers, the wakes, and the mixing layers, are only some of the complex flow features that must be modeled accurately. The experimental data is taken from AGARD-AR-303 where numerous experiments of flow about the NHLP 2D multi-element airfoil are documented.
 Along the years, we have managed to simulate this case using various codes developed by the Israeli CFD Center, including the Chimera based EZAir flow solver, as well as our research codes for unstructured (GUNS) and Cartesian (MACAW) grids.
| | | |
| --- | --- | --- |
| | | |
| Structured (Chimera) grid | Unstructured grid | Cartesian grid |
The predicted results agree well with the experimental measurements of the pressure distribution along the airfoil: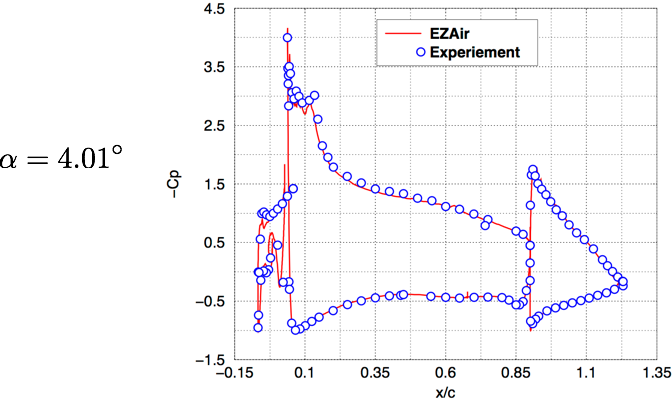 and the section lift vs. drag:
Finally, the predicted distribution of the total pressure coefficient also agrees favorably with experimental measuremens.